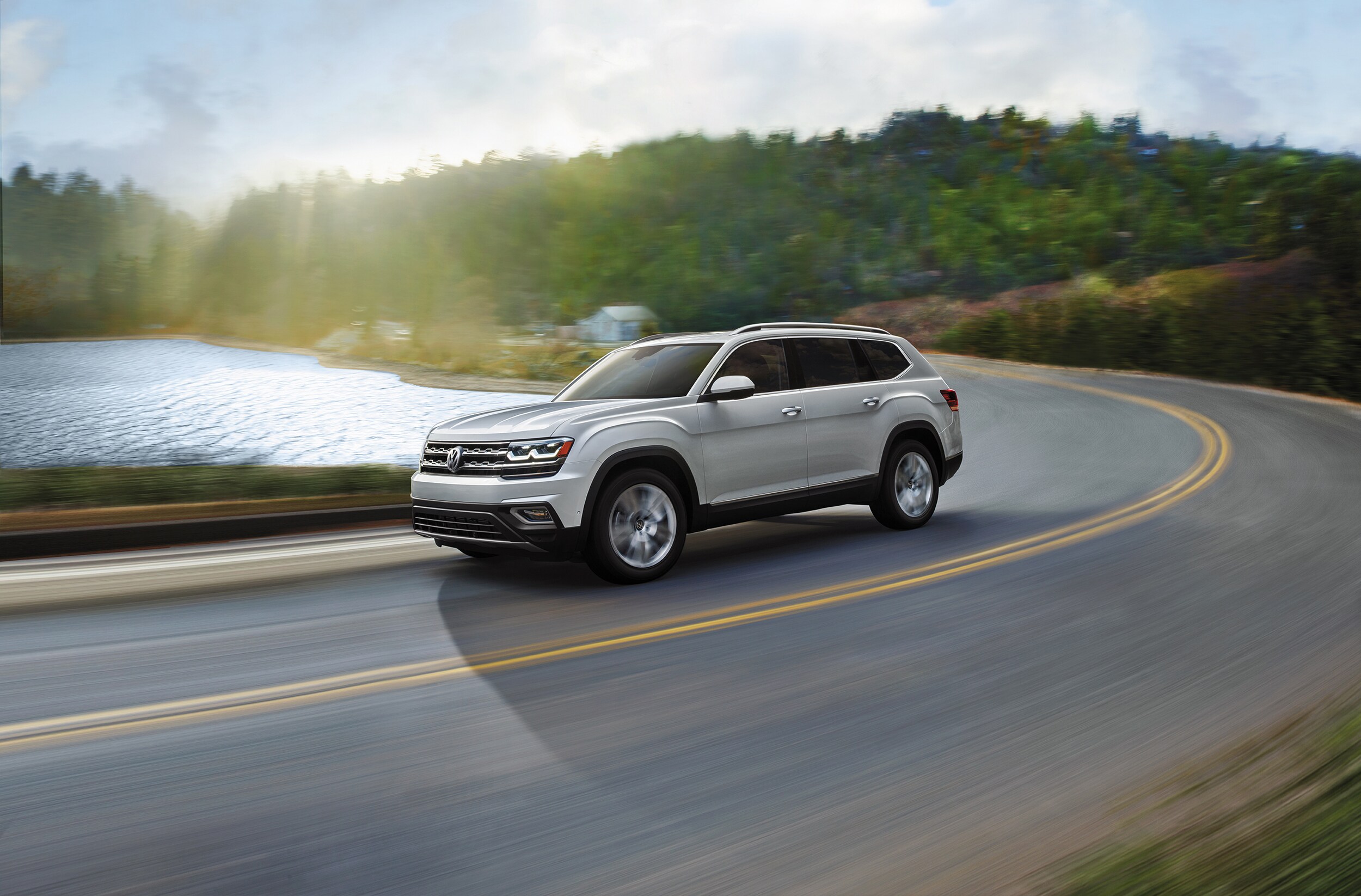 For years, Volkswagen has been synonymous with European-style and luxury, but now VW has chosen to introduce a midsize, family-friendly SUV. With three rows of spacious seating, ample cargo space, and desirable consumer-friendly features, the 2018 Atlas is the answer for those who love the kind of drive only a Volkswagen can offer but are looking for more utility in their vehicle.
If you are in search of a car that provides ample space, yet drives like a smaller car with the luxurious European feel, the Atlas was made for you. In the 2018 Atlas, you will find a vehicle that suits the size and safety needs of a busy family without sacrificing style, performance, and the latest in smart technology.
Smart Integration
Smartphone integration for Apple and Android come standard to enhance and simplify your relationship with smart technology. App-Connect allows you to plug in your compatible smartphone to view your select apps on the touchscreen display. The breakthrough 12.3" display has fewer knobs and clutter and instead displays your information digitally in high resolution.

 Create up to four driver profiles, remembering your personalization preferences for a variety of settings and systems such as preferred driver seat position, radio stations, and temperature. With the Climatronic feature, you can set different climate control for the 3 zones of the vehicle, keeping everyone comfortable on your drive.
Safety that Never Rests
You have probably found yourself forgetting where you last parked or if you locked your vehicle, or even needing assistance calling for help in case of emergency.  The VW Car-Net feature can answer these questions, bringing peace of mind and keeping you covered.
The extensive safety features included in the Atlas are Front Assist, Blind Spot Monitor, Rear Traffic Alert, Lane Assist, Park Assist, and more. Due to its increased safety features, the 2018 Atlas earned a 5-star overall rating from the National Highway Traffic Safety Administration. With a car that helps you drive with optimal safety for those both in and out of your car, you can press on with confidence.
Luxury and Performance
Along with basic luxury amenities standard in a Volkswagen, you can choose trim-level-specific options such as 12-speaker Fender audio system, leather, extra rows of USB ports, heated rear seats, and adaptive cruise control. VW's seatbacks fold completely flat, allowing 96.8 cubic feet of cargo space (more than a full-size GMC Yukon or Nissan Armada can accommodate).
Despite its size, the Atlas has adept handling and the drive resembles that of a smaller vehicle. Offered in 2.0L turbo or 3.6L V6, this big car doesn't compromise on power, proving that a performance engine and family SUV coexist well.
Starting at just $30,500, the 2018 Volkswagen Atlas has already been ranked as a leader among sport utility vehicles. Car and Driver found that the Atlas is "The clear choice when size matters" when compared with multiple top-performing SUVs.